MARSHA NAEGELI
11 SW 5th Avenue Suite 2020 Portland, OR 97204
P: 503-227-1544
jeanne@naegeliusa.com
http://naegeliusa.com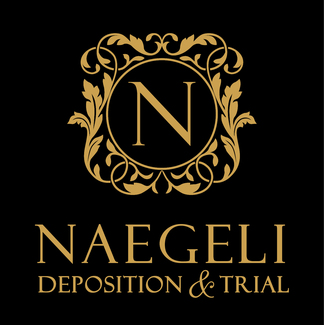 For over 40 years, NAEGELI Deposition and Trial has been known as the industry's leading choice for court reporting and litigation support. Awarded for "Outstanding Professional Service" and "Best Court Reporting Firm" for many consecutive years, we strive to set the standard with all-inclusive services and cutting edge technology. With our corporate headquarters located in Portland, Oregon and additional offices throughout the United States, we provide nationwide court reporters, videography, videoconferencing, trial support and trial presentation, copying, trial technology consultants and trial technicians, legal interpreting and transcription services. At NAEGELI Deposition and Trial, we deeply value our clients. Our dedicated team will go the extra mile to help you win your case.
What consistently makes NAEGELI the top rated full-service national court reporting and litigation support firm? It can be traced to the excellence of our team and the values of our company. Innovative spirit, clear communication, high expectations and dedication to follow through are just a few of our core values. We clearly set the standard for service and exemplify the willingness to invest in our client's technical needs and the education of our employees. Whether you are an Attorney, Paralegal or Legal Assistant, we provide the industry's top legal tools to help simplify and effectively manage your workload. Combined decades of experience among our expert court reporting team afford clients great peace of mind. NAEGELI continues to be amongst, if not the most, competitively priced firm in the industry.
From the moment you call to schedule any litigation support service, you will recognize the NAEGELI advantage. We appreciate you making NAEGELI Deposition and Trial the preferred national court reporting and litigation support firm locally and nationally.
Want to become a member?
The CCBA offers its members many invaluable benefits like discounted CLEs, increased visibility through our searchable online directory and social networking activities throughout the year. Click here to become a member today!
Register today!