ERIN C. LAMBLEY
805 Broadway Street Suite 1000 Vancouver, WA
P: 360-816-2459 F: 360-816-2460
erin.lambley@landerholm.com
www.landerholm.com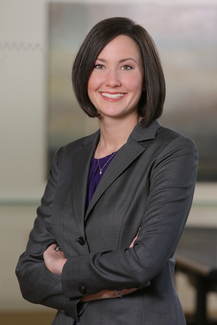 Erin Lambley's practice focuses on general business law, including representing corporations, limited liability companies, partnerships, and non-profit organizations.
Erin assists clients with entity formations and dissolutions, contract negotiations, purchases and sales, tax planning, reorganizations, and mergers. In addition, she assists health care providers with statutory and regulatory compliance. Erin enjoys representing businesses in various stages of their lives, and she particularly likes developing practical solutions to complex issues.
Erin's goals when serving clients are facilitating open communication, following through, and resolving matters in a timely fashion so that clients can focus on their businesses.
Erin's interest in the law developed when she worked as a paralegal to the corporate counsel for a publicly traded corporation. She found the variety of legal matters that arise for businesses on a daily basis to be both interesting and challenging, which led her to attend law school.
Want to become a member?
The CCBA offers its members many invaluable benefits like discounted CLEs, increased visibility through our searchable online directory and social networking activities throughout the year. Click here to become a member today!
Register today!