ELIJAH T. MARCHBANKS
1310 Main Street Vancouver, WA 98660
P: 360-205-2256 F: 360-419-5226
emarchbanks@navigatelawgroup.com
www.navigatelawgroup.com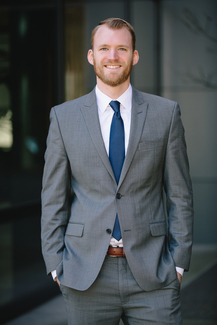 Practice Areas
Eli is an attorney licensed in WA with a focus on business, consumer, intellectual property, and contract law.

Education
Bachelors of Science in Political Science, Oregon State University.

Juris Doctor, Gonzaga University School of Law, Cum Laude.

Bio
After working for four seasons as a wildland firefighter for the United States Department of Agriculture Eli decided to attend law school. During law school he was captain of the trademark moot court team and was elected Governor of the American Bar Associations (ABA) twelfth circuit. In practice Eli has remained active in the ABA, recently being one of six attorneys in the nation to be honored as an Emerging Leader. Eli's strong work ethic and sense of justice make him a talented and effective advocate for his clients.
Want to become a member?
The CCBA offers its members many invaluable benefits like discounted CLEs, increased visibility through our searchable online directory and social networking activities throughout the year. Click here to become a member today!
Register today!