COLLIN MCKEAN
655 W. Columbia Way Suite 504 Vancouver, OR
P: 360-502-7022 F: 360-558-7973
collin@mckeansmithlaw.com
www.mckeansmithlaw.com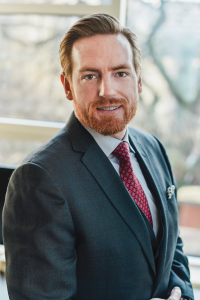 A top lawyer in more than one sense—he's climbed Mount Rainier—Collin McKean is an owner in the McKean Smith law firm. Collin's practice includes business transactions, estate law, family law and civil litigation in Oregon and Washington. A tireless advocate for his clients, Collin's background in business and accounting gives him the perspective to tackle complicated financial disputes which often are at the heart of any legal disputes, including in high-asset dissolution cases.

Collin knows that the key to being a good lawyer is to have compassion, employ attention to detail, and utilize creativity to solve what often feel like intractable legal issues. From watching his own father practice law in Eastern Washington when he was growing up, Collin brings a level head and an eye towards alternative solutions to the issues his clients face, ensuring their rights and their values are upheld. "It's not just about the money and the hard work," he says. "Mutual contribution to a family's financial success creates strong emotions about future resources. I aim to provide guidance and legal strategy so that my clients have the confidence that their goals will be achieved."

When not bringing his no-nonsense approach to bear on his client's legal disputes, Collin enjoys skiing, swimming, and traveling.
Want to become a member?
The CCBA offers its members many invaluable benefits like discounted CLEs, increased visibility through our searchable online directory and social networking activities throughout the year. Click here to become a member today!
Register today!