ANNE-ELISABETH MARGGRAF
655 W Columbia Wy 504 Vancouver, WA 98660
P: 360-502-7022 F: 360-558-7973
amarggraf@mckeansmithlaw.com
mckeansmithlaw.com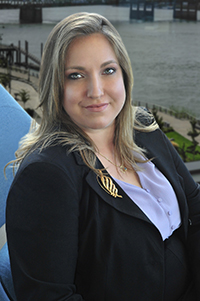 Anne comes to McKean Smith as an associate attorney, to offer her support and knowledge while gaining hands-on experience in the area of family law. While in law school, Anne focused on tax law, federal Indian law, and worked as a law clerk for a firm which focused on transactional drafting and civil litigation. Prior to law school, she spent the first twenty years of her career in the service industry. She particularly values the soft skills she developed during that time and looks forward to putting them to good use at McKean Smith, being able to use her knowledge and compassion to helping families in need. Anne enjoys working among like-minded professionals with the same sense of teamwork, common purpose, and good humor.
Born and raised in the PNW, Anne's favorite activities outside work include trivia, calligraphy, origami, foraging, cooking, gardening, and reading. She spends as much time as she can working on the garden and wandering in the woods with her husband, two boys, and two dogs.
Want to become a member?
The CCBA offers its members many invaluable benefits like discounted CLEs, increased visibility through our searchable online directory and social networking activities throughout the year. Click here to become a member today!
Register today!