AMBER RUSH
1310 Main Street Vancouver, WA
P: 360-205-2206 F: 360-419-5226
arush@navigatelawgroup.com
www.navigatelawgroup.com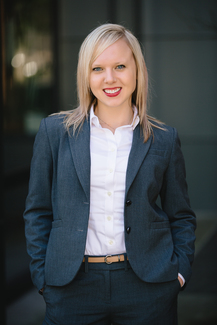 Practice Areas
Amber is an attorney licensed in WA with a focus on family, business, estate planning, and wills and probate.

Education
Bachelors of Science in Psychology, Portland State University,Magna Cum Laude.

Juris Doctor, Gonzaga University School of Law, Cum Laude.

Bio
Amber has a sharp brain for business. In law school she noticed disproportionate supply and demand of legal services in Spokane. As a result she founded the organization FLASH, in which law students partnered with attorneys at the Volunteer Lawyer Program to provide legal services for lower income people. For her efforts Amber was honored as Law Student of the Year by the Spokane County Bar Association. She has continued this history of innovation in practice by working at the forefront of unbundled legal services. Amber's strong business sense has enabled her to keep operating costs at MRM Law Group low to keep legal services affordable for our clients.


Want to become a member?
The CCBA offers its members many invaluable benefits like discounted CLEs, increased visibility through our searchable online directory and social networking activities throughout the year. Click here to become a member today!
Register today!