David A. Kurtz
704 E Main St, Ste 102 Battle Ground, WA 98604
P: 360-687-7106 F: 360-687-3121
dkurtz@jjk-law.com
www.jjk-law.com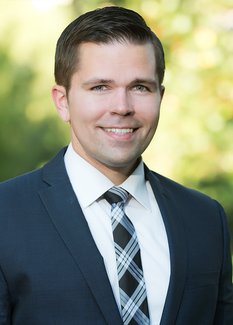 David joined Jackson, Jackson & Kurtz in 2013 after graduating from Gonzaga University School of Law and being admitted to the Washington State Bar Association. While in law school, David worked at the University's legal aid clinic, which provides legal services for low-income people and non-profit organizations. Currently, David primarily focuses on the areas of estate planning, landlord-tenant, and civil litigation. David prides himself at working hard to help his clients find the best, most cost-effective solutions to their legal issues.
Having grown up in Battle Ground, Washington, David wanted to return to his hometown after law school to join the family firm. Taking after his mom, David is enthusiastic about community service. David is a proud member of the Battle Ground Rotary Club and has assisted the club in its highway clean-up efforts and has pounded the pavement to help raise money to fight polio.
In his free time, David enjoys exercising, reading, and hiking.
Practice Areas: Landlord-Tenant Law; Estate Planning; Business Formation.
Want to become a member?
The CCBA offers its members many invaluable benefits like discounted CLEs, increased visibility through our searchable online directory and social networking activities throughout the year. Click here to become a member today!
Register today!